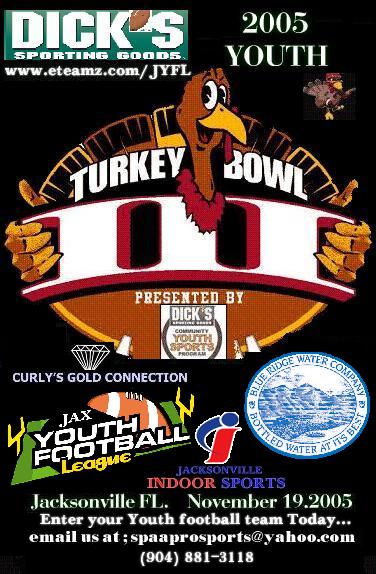 Click image for info about our summer football camp
If you would like to put your teams in our league call and leave a msg;(904) 881-3118
JAX

YOUTH FOOYBALL LEAGUE

BIG SOUTH CONFRENCE FOOTBALL 2005
Jacksonville Wildcats - Kooker Park -Shepherds - Lake Forest - Southside Rattlers - Hilliard Heat

Welcome to the Jax youth Football League Official Web Site.
The league serves communities in Florida and Georgia. This site is a spring board to our teams and member organizations. The JYFL youth tackle football and cheerleading program includes children between the ages of 5-18. If you'd like your child to play or are an organization looking for a league to be part of. Please use any of the contacts for more information if needed.

MISSION STATEMENT:
The Jax youth Football League (JYFL) mission is to provide youth in South Florida & Georgia the opportunity to participate in a tackle football and cheer program. Where each franchise can operate independently and cooperatively with each other to provide a positive athletic experience for each participant and to allow our kids to play in a youth football league.
Message From The President
I would like to welcome each of you to another exciting season with JAX Youth Football. There are many new and exciting changes as we strive to make JAX Youth Football the best "show in town". We have introduced Pre Registration, On Line Registration, a new look in uniforms, and of course the same great football and Cheerleading we have become accustomed to. From Mighty Mite to Senior Varsity our goal is to make this season as fun and exciting as possible for our children and parents. I hope each of you will have a great year as we begin the 2005 adventure together. "Where Execellence Begins" is not just our motto but a way of life on the Board of Directors as we work to insure Fair Play, Sportsmanship, and Good JYFL Competition. I want to thank each of you for your support. See you at the fields. Tony L. President JYFL.
Click Here to visit our other site
S

M

T

W

T

F

S

1

2

3

4

5

6

8

9

10

11

12

13

16

17

18

19

20

23

24

25

26

27

28

30

31